Dear, Readers,
Thanks so much for visiting How to Publish a Book. This week we are continuing our series with some of the bestselling eBook authors in the world. If you have questions, feel free to contact us. We always love hearing from readers and visitors to our site. Thanks so much, and enjoy the interview.
Stacey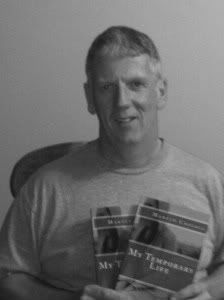 MARTIN CROSBIE
Martin Crosbie's My Temporary Life was first published in late December 2011, and became one of the hottest books in the world in early 2012. During a free promotion it skyrocketed to #1 overall in the Amazon Kindle Free category as over 50,000 readers downloaded it. The following week when the promotion ended it reached #9 on the overall Amazon Kindle paid charts, #1 in Romance/Suspense and #1 in Mystery/Thrillers. It was an Amazon Mover and Shaker, and also reached #7 in IndieReaders rankings of top independently published novels of the week. In a very short time almost 70,000 people have now picked up My Temporary Life, and further awards and 5 Star Reviews are pouring in.
HOW TO PUBLISH A BOOK: Your novel My Temporary Life is doing extraordinarily well as an eBook on the Amazon Kindle platform. What is your story about?
MARTIN CROSBIE: Thank you! My Temporary Life is the story of Malcolm. Malcolm has a dysfunctional childhood that sees him shuffled between a neglectful promiscuous mother in Canada and a remote quiet father in Scotland. Bullied at school in Scotland and ridiculed and embarassed in Canada, he escapes to a boarding school and hides from the world.
As an adult, he meets Heather, a beautiful young woman who has also had a severely dysfuntional childhood. Heather has a secret that she shares with Malcolm, and then the adventure begins. I'm sorry but to tell more would spoil it so I'll leave it there for now. I can tell you that it has been described as a romance/suspense/coming of age novel.
HOW TO PUBLISH A BOOK: What advice would you give to aspiring writers who have a book and don't know how to proceed in the sometimes mysterious world of book publishing?
MARTIN CROSBIE: My book was rejected over 100 times by agents and publishers, yet readers kept telling me that it was a good book. I was almost ready to give up when I decided to self-publish through Amazon. I released it just before Christmas last year and sold a few hundred eBooks, a lot of them to friends and family of course.
Then, I decided to take part in Amazon's free promotion. I gave the eBook away for free for a 3 day period in order to get the word out there.
It worked! Last Saturday it lingered around the #2 or #3 spot all day and then on Sunday it got to #1 and stayed there all day. Over 51,000 folks downloaded the eBook.
The true test began once the free promotion was over. Throughout the week, the book steadily climbed in Amazon's overall rankings, and hit #9. Currently it still sits at #2 in 2 of their romance/suspense subcategories and at #24 overall. People want to read the book and Amazon has a fantastic system that will help you get your work out to readers. I highly recommend it.
HOW TO PUBLISH A BOOK: What are the blogs and review sites that best contribute to eBook sales?
MARTIN CROSBIE: There are so many good sites out there. I networked on Facebook through writers groups, I tweeted, and I used Amazon's tools to get the word out there.
I heard it said that Facebook isn't a great vehicle to promote anymore, I disagree with that. I believe that it was Facebook, and the various groups that I posted in, that pushed me to #1 last Sunday.
Join groups on Facebook that will promote your work, post on the Kindleboards, and join in discussions on Amazon. It's the only way to get the word out there.
When I was climbing on the overall paid charts I was overtaking such big name authors as Stephen King, and Sophie Kinsella, and books like The Help and even Twilight at one point. The buzz was incredible. I had so many people tweeting and Facebooking and emailing their contacts, and that's what helped spread the word and get My Temporary Life out to folks.
HOW TO PUBLISH A BOOK: What are the steps you've taken to launch this book so successfully?
MARTIN CROSBIE: I have a website www.martincrosbie.com where I blog and update my readers with the most recent news on My Temporary Life. And, to be honest, I posted everywhere, and I mean everywhere.
Anywhere that I could think of that might be a way to get the word out there, I did it. Those included online newspaper ads that were free, guesting on other writers blogs, doing an online radio interview, and again, networking on Facebook and chat boards.
It is incredibly time-consuming, and I'd much rather be writing but it really does pay off, and it's free. You don't have to pay for an ad, you just put the time into building relationships with the real people who are going to be buying your books.
HOW TO PUBLISH A BOOK: What are you currently working on?
MARTIN CROSBIE: I have two projects that I'm working on. One is a romance/thriller that is unlike My Temporary Life and the other is a sequel to My Temporary Life.
There is much more to tell with Malcolm and Hardly and Heather, and young Emily too. The last book ended in the early nineties, and this one picks up several years later. I have had so many emails and requests asking to know what heppened to them that I couldn't not do it, and there is more to tell, much, much more.
HOW TO PUBLISH A BOOK: Thanks so much for speaking with us, Martin.