Dear, Readers,
Thanks so much for visiting us. We are grateful for your interest and support. We've been receiving a lot of questions lately about literary agents, and about whether to self publish or find a traditional publisher. This week's interview with author T.R. Ragan shines a light on this subject and on a new trend in publishing.
T.R. fought for many, many years to get a foot in the door in traditional publishing as a Romance author. She did everything every guide book and established writer suggests you do to get noticed and get published. Still, no one recognized her talent nor gave her a chance. It is beyond words how frustrating this must have been for T.R., and even more frustrating is the realization that T.R. is not alone. Thousands of writers probably like yourself reading this blog have the talent and the drive to publish your book, yet no one in traditional publishing is willing to take the time to nurture you and guide you through the process.
This is why we began our website.
T.R.'s story is one of total success through perseverance. As you'll see in our interview, after traditional publishing stonewalled her for more than a decade, she made the decision to self publish. Subsequently, she sold more than 200,000 copies of her books.
If you're reading this blog and you feel like no one has ever helped you, no one has ever taken the time to offer you guidance, no one has ever said to you "You are a brilliant writer, and you deserve to make a lot of money from your books," then you have come to the right place.
We welcome you, and we appreciate your support and interest in our humble site. If you have questions or comments, please don't hesitate to drop us a line. We'd love to hear from you. Enjoy the interview.
Stacey
_____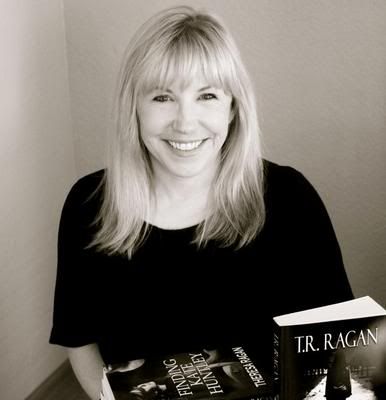 Q: You have an amazing personal story on your website theresaragan.com regarding how you got started as a writer. Many of our visitors at howtopublishabook.org ask this very question. For those folks, how did you get started as a writer?
T.R. RAGAN: Hi Stacey, thanks for inviting me here today. Nineteen years ago, on a leave of absence from work and pregnant with my fourth and last child, I read my first romance novel and I was blown away. For two hours, I had been taken to an exciting world filled with romance and adventure. I had always loved to write poems and in a journal, but the minute I finished reading that book, I knew that I wanted to write my own story in hopes of providing a few hours of escapism for women just like me.
I grabbed a notepad and started writing down ideas. I had no idea what I was doing when I began my journey. I spent a lot of time at the library since Google didn't exist (that I know of) and I didn't have a computer. I began to read like crazy, trying to analyze what other authors had done. I filled up a huge binder with endless notes. Nora Roberts has been quoted as saying, "You can fix a bad page, but you can't fix a blank page." I love that saying. Five years later, I had completed my first novel, Return of the Rose.
After receiving my first rejection, I joined Romance Writers of America and was thrilled to discover there were so many people out there like me--people whose heads were filled with scenes and characters. I learned more in that first year with RWA than I had learned in five years on my own. I joined critique groups and I attended conferences all over the U.S. I entered contests and I eventually signed with two agents. I worked with a few editors, too. I finaled six times in RWA's Golden Heart Competition. I wrote every day, but I still couldn't make a sale to a NY Publisher. In March, 2011, I decided to self-publish and I haven't looked back since.
Q: Your novel ABDUCTED is doing extraordinarily well on the Kindle eBook platform. What is the story about and what are the steps you took to first get the word out about it?
T.R. RAGAN: As of today, I have sold 200,000 books in one year. Abducted is responsible for more than half of those sales. Thrillers are hot right now. I hit the right genre at the right time. Opportunity + good timing = Luck. Writing for 19 years didn't hurt either.
Abducted is about Lizzy Gardner, a young woman who was abducted at the age of 17, after being dropped off by her boyfriend. After spending months with a ruthless killer, she manages to escape. 14 years later, Lizzy is a private investigator known as "the one who got away." When Lizzy isn't talking to her therapist or chasing after insurance frauds, she volunteers at high schools and teaches young girls to defend themselves. Her world is turned upside down for the second time when a young girl is taken from her home in the middle of the night. Lizzy's old boyfriend, Jared Shayne, is now an FBI agent and he needs her help. The kidnapper has left Lizzy a personalized message. He's back and this time he means business.
I wrote Abducted at a time when I was frustrated with not selling to New York. I had worked hard to learn my craft. I was doing everything I was supposed to be doing, but luck wasn't on my side. I put aside my romance novels and decided that a few characters were going to pay with their lives. Writing the book was therapeutic for me. The process helped me rediscover my love for writing. I let it all hang out. I wasn't writing Abducted for an editor or an agent. I was writing it for me.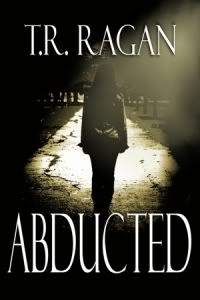 Before releasing Abducted in May, 2011, I worked hard for three months on getting my name out there. I did interviews like this one and I blogged wherever and whenever I could. I did a search on the internet for romance reviewers and every morning I would send out a request for a review. Many reviewers never responded, which was fine. I was able to get reviews from the reviewers who were interested in reading my book(s). Once I began to make some money, I began to advertise on The Romance Reviews, Eye on Romance, Digital Book Today, Frugal Ereader and the place that I give a lot of credit for getting my name out there is Pixel of Ink. In April 2011 Pixel of Ink mentioned A Knight in Central Park and my book went soaring into the Top 100 List at Amazon.
Q: What are the blogs and websites that you've noticed directly impact eBook sales?
T.R. RAGAN: I have a friend who has not spent one dime on advertising and she is selling amazing amounts of books. But she is doing interviews and she has posted on many blogs, including her own. For some, writing a post for a blog is a time consuming endeavor. For people like me, who never run out of things to talk about, it's easier. For an author with little money, I would suggest blogging wherever he/she can. If you have time, do a blog tour. I did one and I enjoyed connecting with readers, but blog tours can be time consuming and the best promotion is writing your next book.
Q: What advice would you give to an aspiring writer who has a novel and doesn't know what steps to publish it?
T.R. RAGAN: Go to my LINK PAGE on my website. I list the steps I went through to self-publish. I would tell any author who wants to self publish that they should join IRI, Indie Romance Ink run by Cate Rowan and Carly Carson. There are more than 800 authors who are listening, learning, and more importantly, sharing information. Every member is friendly and willing to help. It's an incredible place to learn about self-publishing.
Q: What are you currently working on and where would you like to be in one year as an author?
T.R. RAGAN: I am currently revising a romantic comedy, Having My Baby. The book needed a lot more work than I had first envisioned. When I am finished with that, I plan to write the third book in my Lizzy Gardner series. This will complete my first series! I have many goals and, at some point, I would love to hit the USA Today or NY Times bestsellers list. So many wonderful and exciting things have happened to me in the last year, I can't imagine it get any better than this. More than anything, I want to inspire other writers to believe in themselves and to never give up. When it comes to self-publishing, there is a lot to learn. Just take it one step at a time. Writers don't need to learn it all in one week. Always make sure you are enjoying the process. Have fun!
Q: Thanks so much for speaking with us, T.R.!