Dear, Readers,
Welcome to our site. This week we are featuring an interview with a self-published author who has sold 250,000+ copies of her eBook in the past couple of months. Tracey Garvis-Graves's novel On the Island has been ranked inside the Top 10 overall bestseller category on Amazon for over a month, and MGM has optioned the film rights. It is the perfect storm of outstanding story, driven and smart marketing, and the right book for the right audience. The film option suggests you will very likely be seeing it in a major motion picture soon.
Needless to say, if this is your first time visiting us, you have stumbled upon the emergence of a writer who you will be hearing a lot more about in the coming years.
I thank you for visiting our site. As always, we're grateful for and appreciate your support, and I encourage you to drop us a note. We enjoy hearing from our readers.
Stacey
_____
TRACEY GARVIS-GRAVES
Tracey Garvis-Graves lives in a suburb of Des Moines, Iowa with her husband, two children, and hyper dog Chloe. On the Island is her first novel. She blogs at www.traceygarvisgraves.com using colorful language and a snarky sense of humor to write about pop culture, silly television shows, and her suburban neighborhood. She is hard at work on her next book. You can e-mail her at traceygarvisgraves@yahoo.com. She'd love to hear from you.
Q: Your novel On the Island is doing phenomenally well on Amazon Kindle. What is the story about and for howtopublishabook.org readers who want to know whether self-publishing an eBook is a good idea, roughly how many copies have you sold?
TRACEY GARVIS-GRAVES: Here's the description from Amazon:
When thirty-year-old English teacher Anna Emerson is offered a job tutoring T.J. Callahan at his family's summer rental in the Maldives, she accepts without hesitation; a working vacation on a tropical island trumps the library any day.

T.J. Callahan has no desire to leave town, not that anyone asked him. He's almost seventeen and if having cancer wasn't bad enough, now he has to spend his first summer in remission with his family - and a stack of overdue assignments - instead of his friends.

Anna and T.J. are en route to join T.J.'s family in the Maldives when the pilot of their seaplane suffers a fatal heart attack and crash-lands in the Indian Ocean. Adrift in shark-infested waters, their life jackets keep them afloat until they make it to the shore of an uninhabited island. Now Anna and T.J. just want to survive and they must work together to obtain water, food, fire, and shelter. Their basic needs might be met but as the days turn to weeks, and then months, the castaways encounter plenty of other obstacles, including violent tropical storms, the many dangers lurking in the sea, and the possibility that T.J.'s cancer could return. As T.J. celebrates yet another birthday on the island, Anna begins to wonder if the biggest challenge of all might be living with a boy who is gradually becoming a man.

On the Island is a full-length adult romance novel. It explores the human need for more than mere survival, the meaning of bonds formed in isolation, and the ways those bonds are bound to change.
As of May 18th I've sold 252,795 copies across all channels including Amazon, Barnes &Noble, Smashwords, Apple, Kobo, Sony, and Diesel. The book is available in e-book, paperback, and audiobook formats.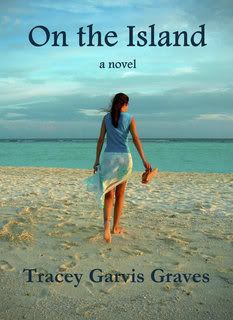 Q: How did you come up with the idea for On the Island and how long did it take you to write?
TRACEY GARVIS-GRAVES: I loved the T.V. show Lost and I really enjoyed the movie Castaway. I've loved the desert island premise since my mom took me to see The Blue Lagoon when I was thirteen. I knew I wanted to write a desert island book, and I knew I needed to have a compelling and interesting pairing for the main characters. I wanted to put two people on the island that shouldn't be together and see if I could make it work.
It took me approximately eighteen months to write On the Island, from the first word to hitting the publish button.
Q: Did you try and find a traditional publisher for it?
TRACEY GARVIS-GRAVES: Yes. I queried fourteen agents and received fourteen form rejections. That's not a very high number and some would say I didn't try hard enough to find an agent. But even if I had managed to catch the eye of an agent, I really don't think traditional publishers would have taken a chance on the book. It doesn't fit neatly into a single genre, and it's got a risky storyline.
Q: How did you make the decision to publish On the Island via Amazon Kindle? What were your emotions like prior to publishing it?
TRACEY GARVIS-GRAVES: Once I received my last rejection I started to think that maybe self-publishing would be a good option for me. My betas loved the book and I'd starting giving out ARC's that were well-received. I was still a bit uncertain emotionally, though. I felt like a failure after not being able to garner any interest at all from literary agents. I thought I had a strong query letter so the rejections had me worried that the book wouldn't work on any level. The only thing that kept my confidence up was that the people who actually read the book seemed to love it.
Q: At last count you have 620 five-star customer reviews. Aside from writing what is clearly an amazing story, what additional steps did you take early on to get the ball rolling in spreading the word?
TRACEY GARVIS-GRAVES: I held a virtual launch party on my blog and I linked to the post on Facebook and Twitter. I became active on Goodreads and I bought paid sponsorships on Pixel of Ink, Ereader News Today, The Frugal eReader, and Kindle Nation Daily. I also did a giveaway for four print copies on Goodreads.
Q: What blogs or review sites have been most helpful in making readers aware of your novel?
TRACEY GARVIS-GRAVES: Right after I uploaded the book I sent out a lot of requests to book bloggers, hoping one of them would agree to review On the Island. No one responded which is not unusual because they're inundated with requests every day. Once the book started to take off a little, several book bloggers reached out to me for a review copy which I appreciated very much. I had one very special book blogger, Autumn, at The Autumn Review, who was instrumental in On the Island being selected for a blog tour via A Tale of Many Reviews.
Here's a link to the post on my blog that lists all the bloggers involved.
http://www.traceygarvisgraves.com/2012/03/tale-of-many-reviews-blog-tour-for-on.html
Autumn wrote a nice message encouraging other bloggers to sign up. I'm grateful to her and to all the bloggers who made the tour such a success.
Q: I see from your blog that you're now represented by a literary agent. What advice would you give to a room of 30 aspiring writers regarding whether to get a literary agent first or whether to self publish?
TRACEY GARVIS-GRAVES: It's hard to say since I did everything backward. It was only after the book really took off that the literary agents started contacting me. I sold the foreign rights in Indonesia and Hungary via literary agents in those two countries and then signed with Dystel and Goderich for subsidiary rights so that, going forward, they could manage that piece for me. They've been wonderful and have recently sold the French rights.
I would recommend querying agents and pursuing a traditional publishing contract if it's important to you as a writer. Self-publishing isn't for everyone and some people don't like handling all aspects of bringing their work to the marketplace. I happen to love it. I enjoy writing my own blurbs, hiring my own editors and formatters, and selecting my own cover images. Contrary to what people think, self-publishing is not that difficult and/or time consuming.
Q: You have a new novel COVET scheduled for release this Fall 2012. What can you tell us about that story?
TRACEY GARVIS-GRAVES: I'm shifting genre slightly, from contemporary romance to women's fiction, but it will still be pretty heavy on the romance. Here is the tagline and description from Goodreads:
What if the life you wanted, and the woman you fell in love with, belonged to someone else?

Chris and Claire Canton's marriage is on life support. Downsized during the recession, Chris copes by retreating to a dark place where no one can reach him, not even Claire.

Daniel Rush had it all, until a tragic accident took away everything he cherished. A chance meeting with Claire sets in motion a chain of events that will leave three people questioning their choices and dealing with the aftermath of their decisions.
Q: Given your success on your own, how do you feel about selling the rights to your books to a major publisher? Is this something you're actively pursuing, or are you content publishing your books yourself as eBooks?
TRACEY GARVIS-GRAVES: I never say never - because that only gets you in trouble - but at this point I'm not actively pursuing a traditional publishing contract and my agent is fully aware of this. I really enjoy self-publishing. The royalty rate is incredible and it's wonderful being the one that makes all the decisions. That said, I'm keeping an open mind.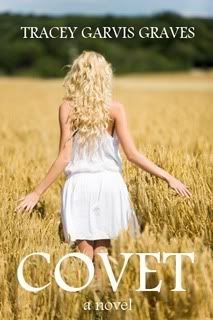 Q: Thanks so much for speaking with us, Tracey.
_____